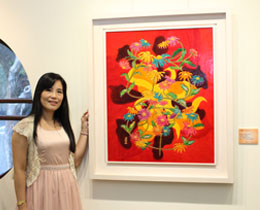 Spiritual Art makes the life lovely
The creation by inspiration opens gentler energy of life with joy. The energy of life has become a very beautiful element for the artistic works. This is my realization through the creative process.

All people and things have the meaning for the life.Such as a plant, a crystal, or a piece of roof tiles etc. along with us everyday, they can receive all of our feelings and emotions.Taking care of things around us can cultivate our mind more beautiful.
In addition, they can also bring good luck to us if we cherish these things around us. Thus, I created the artistic works with my blessing and wished that the artistic work is able to pleasure viewers and touch their hearts.
The Artistic Work - Heart

The "Heart" of Chinese originated from hieroglyph of Chinese characters, which was heart-shaped. Creative inspiration was from the artist's belief that a bright mind can achieve anything. .... [details]
The Artistic Work - Happiness

The "Happiness" of Chinese is one of the ancient Chinese characters, which originally means that the ancients pile up offerings on the stone table and pray to God for happiness......
[details]
The Artistic Work - Love

The "Love" of Chinese originated from associative compounds of Chinese characters, which means love is a feeling of the heart. In addition, .......

[details]
The Artistic Work - Kiss

The "Kiss" of Chinese originated from associative compounds of Chinese characters, which means that when two people kiss they understand each other's innermost hearts without words.... [details]
The Artistic Work - LONGEVITY AND PRO-SPERITY WITHOUT LIM-IT

The Congratulatory Gift for the Thai King's 60th Ann-iversary on the Throne
The artistic work uses the skills of leather carving and color drawing....
[details]
Artist Ying-I Hsu Interview.
Art China:The Official Gateway to
      China's Art
The Congratulatory Gift for the Thai King's 60th Anniver-sary on the Thr-one Artist Ying - I , HSU
Thai King Bhumibol is currently the longest reigning monarch in the world. It was the Thai King's 60th Anniversary on the throne and all Thailand is abuzz with celebrating Thai King Bhumibol's Dia-mond Jubilee and his 83 year-old birth-day on December 5th since Thai people show the utmost respect to their king.

The artistic work "LONGEVITY AND PR-OSPERITY WITHOUT LIMIT" of Gloria was appraised as the best work. With its elegance behind simplicity, its beauty in plainness, it perfectly combines elegant flowers with bright colors to express great blessing of admiration and praise for the Thai King.

Left:Artist Gloria / Right:Executive Director Mr. Wiboon Khusakul of Thailand Trade and Economic Office